Internship at Loïc Bard Studio, cabinet making workshop at Montréal
In the first year of my Master's degree, I wanted to learn how to work with wood and crafts, so I went to Canada to do an internship for several months with the cabinetmaker Loïc Bard who is based in Montreal. His work is very much oriented towards art and exceptional craftsmanship, he works in particular with burnt and bleached wood techniques.
During this internship, I spent part of my time on the computer developing projects with 3D modelling, but also the plans of the different pieces or working on project communication. The other part of the time was spent working in the workshop with the machines and tools, assisting and helping Loïc in the different design tasks.
During this experience, I learned about woodworking and its different stages and how to use some machines like a digital milling machine to work and carve complex parts. I also discovered new techniques such as burnt wood (Shou Sugi Ban). Today, I am passionate about woodworking and I love designing and making objects with this material.
Below you can find two projects I worked on with the different stages of design and manufacturing.
● Corrugated furniture

The project for the Tôle collection was to imagine and create corrugated modules that fit together and stack to create graphic games and a diversity of functions (stools, coffee table, etc.).
In collaboration with Loïc Bard, we started with sheet metal. I was able to take part in each stage of the development and manufacture of the modules, starting with the 3D computer modelling. I then made small models to get a better idea of the volumes before starting to machine the corrugated parts with a digital milling machine. We then assembled the different parts together and finished them with burnt and bleached wood to create a strong graphic and contrasting look.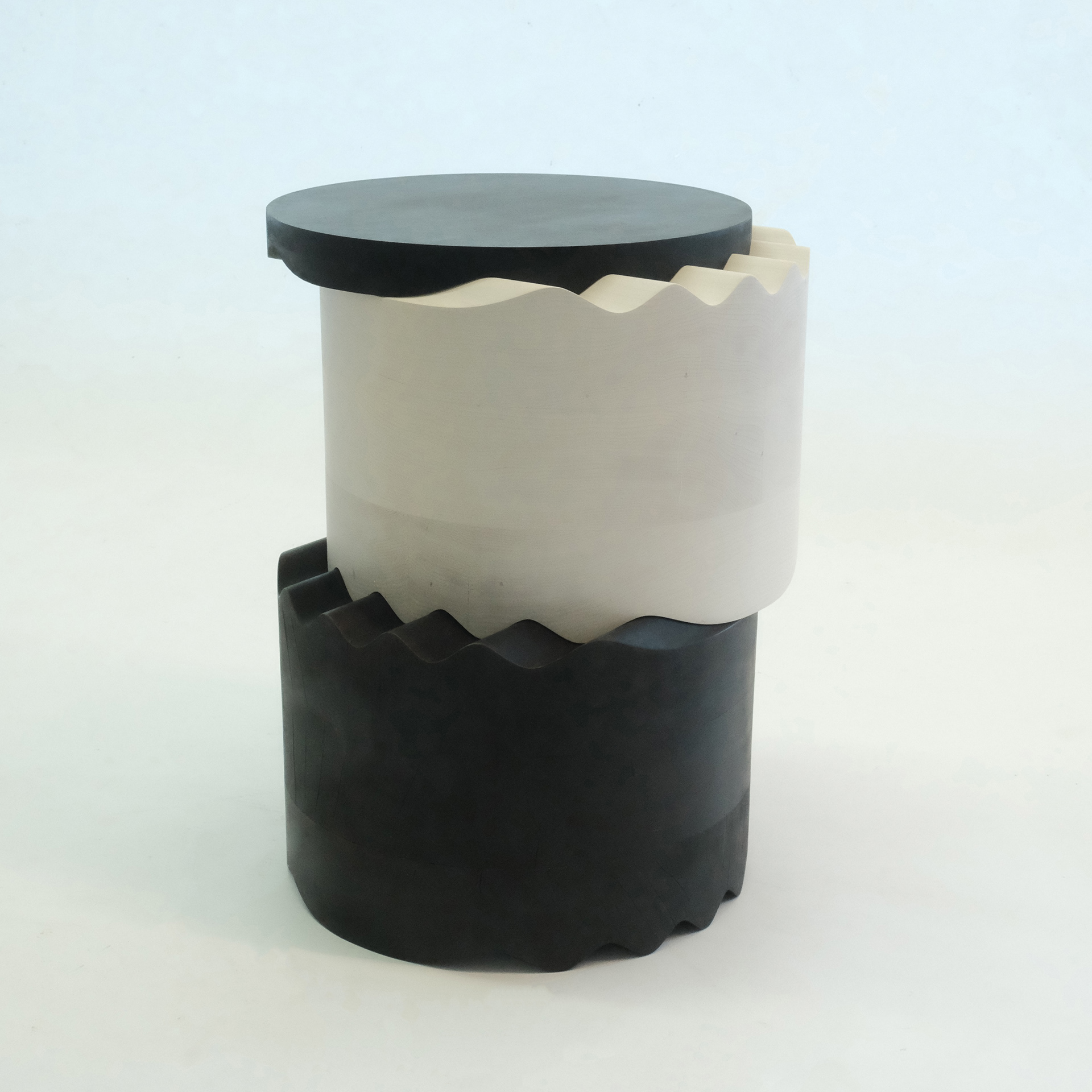 The project for the SAND collection was to think and imagine a range of brooms and brushes with unique and singular shapes, with the aim of exhibiting and selling them at an event in Montreal. In collaboration with Loïc Bard, we designed and then manually sculpted the different pieces. We also worked with a textile designer, Monique Sainte-Marie, to assemble the horsehair with the brooms using a handmade technique with stitching. I also did some communication and photographic work on the brooms to feed social networks, but also for the Montreal Souk event.